EN: Hey guys! I'm Abraham Ponce 2D artist and multi-task ninja at Bromio. I'm a graphic designer and illustrator and I work here since february 2017. I was hired to be the social media guy of the studio and do graphic design for that, but later… because we are a small team I was asked to draw textures, concept art for the exploration levels, NPCs, assets 2D and lots of stuff for Pato Box. So, I'm the guy that answers your tweets and facebook comments but also drew the 2D sprites and textures you can see on the levels.
On this post I want to talk about the graphic design on the exploration levels. When I arrived here, there was only a Pato Box demo of the Lobby section and I was very excited with the potential I could see for decorating the scenarios. There was some posters and logos on the levels, but is fair to say that there wasn't a clear graphic design line for the assets of the game.
ES: Hola! Soy Abraham Ponce, artista 2D y ninja multi-tareas en Bromio. Soy diseñador gráfico e ilustrador y trabajo aquí desde febrero 2017. Fui contratado para ser el chico de las redes sociales y hacer imágenes para ello, pero después… como somos un equipo pequeño, me pidieron dibujar texturas, arte conceptual para los niveles de exploración, NPCs, gráficos 2D y muchas cosas más para Pato Box. Básicamente soy el tipo que responde sus tuits pero también el que dibujó los sprites y texturas que pueden ver en los niveles.
En esta entrada, quiero hablar acerca del diseño gráfico en los niveles de exploración. Cuando llegué aquí, solo estaba el demo de la sección del lobby para Pato Box y yo estaba muy emocionado por el potencial que pude ver para decorar los escenearios. Ya había algunos posters y logos aplicados en los niveles, pero es justo decir que todavía no había una línea clara de diseño para los recursos usados en el juego.
---
Deathflock's lobby
EN: My first job on the Pato Box project was to create some posters about the fake products and business ruled by Deathflock, the evil corporation of the game. It was a fun task because I've never worked on games before but in my previous jobs I've done lots of posters, logos and ads (You can watch my graphic design portfolio here). Also, when I play videogames, I enjoy a lot to watch the art, the posters, the props and the textures of the environments.
From those posters, I began to follow some kind of corporate visual identity for Deathflock. First, the lettering for Deathflock's logo, the slogan, the composition of their lobby posters that I wanted them to feel like vintage recruitment posters.
Later, in the restaurant I thought it would be a good idea to make posters for different types of dishes served there as an international restaurant. The phrases in the posters are fun as a reward for the players who like to observe everything in the sceneario such as "Ricos tacos de suaperro" (mexicans will understand this XD) and "Duck a l'orange" with a little duckie crying.
ES: Mi primer trabajo en el proyecto de Pato Box fue crear algunos posters acerca de productos y marcas falsas de la corporación Deathflock, los malvados del juego. Fue muy divertido porque nunca había trabajado en videojuegos antes, pero en mis trabajos anteriores sí he diseñado muchos posters, logos y publicidad (pueden ver mi portafolio de diseño gráfico aquí). Además, cuando juego videojuegos, disfruto mucho viendo el arte, los posters, la decoración y las texturas de los ambientes.
Desde esos posters, comencé a aplicar algún tipo de identidad visual corporativa para Deathflock. Primero, el lettering para su logo, el slogan, la composición de los posters del lobby que quise que se vieran como carteles de reclutamiento vintage.
En el restaurante, pensé que sería buena idea hacer posters de diferentes tipos de platillos servidos en un restaurante internacional. Las frases son divertidas como recompensa para los jugadores que sí se detienen a observar todo en el escenario. Algunas de estas frases son del tipo "Ricos tacos de suaperro" (los mexicanos entenderán esto XD) y "Duck a l'orange" con un pequeño patito llorando.

---
Pizzicanatra's Food Factory
EN: For the Pizzicanatra's food factory level, the general idea for the graphic design was to make Pizzi's character feel like a cereal mascot… as well as the food products on the game. This was to make a contrast between the cuteness of the products' mascots and the animal cruelty of the slaughterhouse of Deathflock. These posters also have funny copys such as "bloody but tasty" "the biggest sausages" "less air and saltier chips" and more.
I also came up with the naming "Pizzi foods" and Coco, the animator in Bromio suggested that Lola (Pizzi's pet) could be the mascot for the logo.
I think this contrast was ok because that level feels like a big "Looney Tunes' Acme factory" with knifes, saws and stuff that can crush you"
ES: Para el nivel de la fábrica de alimentos de Pizzicanatra, la idea general para el diseño gráfico era hacer que su personaje se sintiera como una mascota de cereal, así como para los productos alimenticios de su fábrica. Esto era para generar una especie de contraste entre la ternura de las mascotas y la crueldad animal del matadero de su fábrica. Estos posters también tienen textos chistosos como "sangriento pero sabroso" "las salchichas más grandes" "papitas con menos aire y más sal" entre otros.
Decidí nombrar a la marca como "Pizzi foods" y Coco, la animadora de Bromio sugirió que usaramos a Lola (la mascota de Pizzi) como parte del imagotipo.
Creo que el contraste entre tierno y cruel funcionó muy bien para este nivel que parece "una fábrica Acme de los Looney Tunes" con sierras, cuchillo y todo.

---
Golden Swan Casino
EN:  For the casino, César Arminio (the creative director) told me that the name must be about swans and the general look and decorations could remind us "A clockwork orange" Because all is about the money I named the level "Golden swan casino" and made all the logos, lettering and decoration similar to Vegas and neon signs.
ES: Para el casino, César Arminio (director creativo del juego) me dijo que el nombre debía relacionarse con algo de "cisne" y el look general y decoraciones, al menos del bar del casino debían recordarnos a "Naranja Mecánica" Como todo está relacionado con el dinero, nombré al nivel como "Golden swan casino" y el diseño de los logos, lettering y decoración las planteé muy similar a las Vegas y sus letreros de neón.

---
Sewers
EN: On the sewers level, I only drew the textures, and the graffitis… The funny one is the "Pato el que lo lea" easter egg (my mexican pals will understand again 😉
ES: En el nivel de las alcantarillas, solo dibujé las texturas, y los graffitis… el más chistoso es el de "Pato el que lo lea" easter egg que de nueva cuenta mis amigos mexicanos entenderán 😉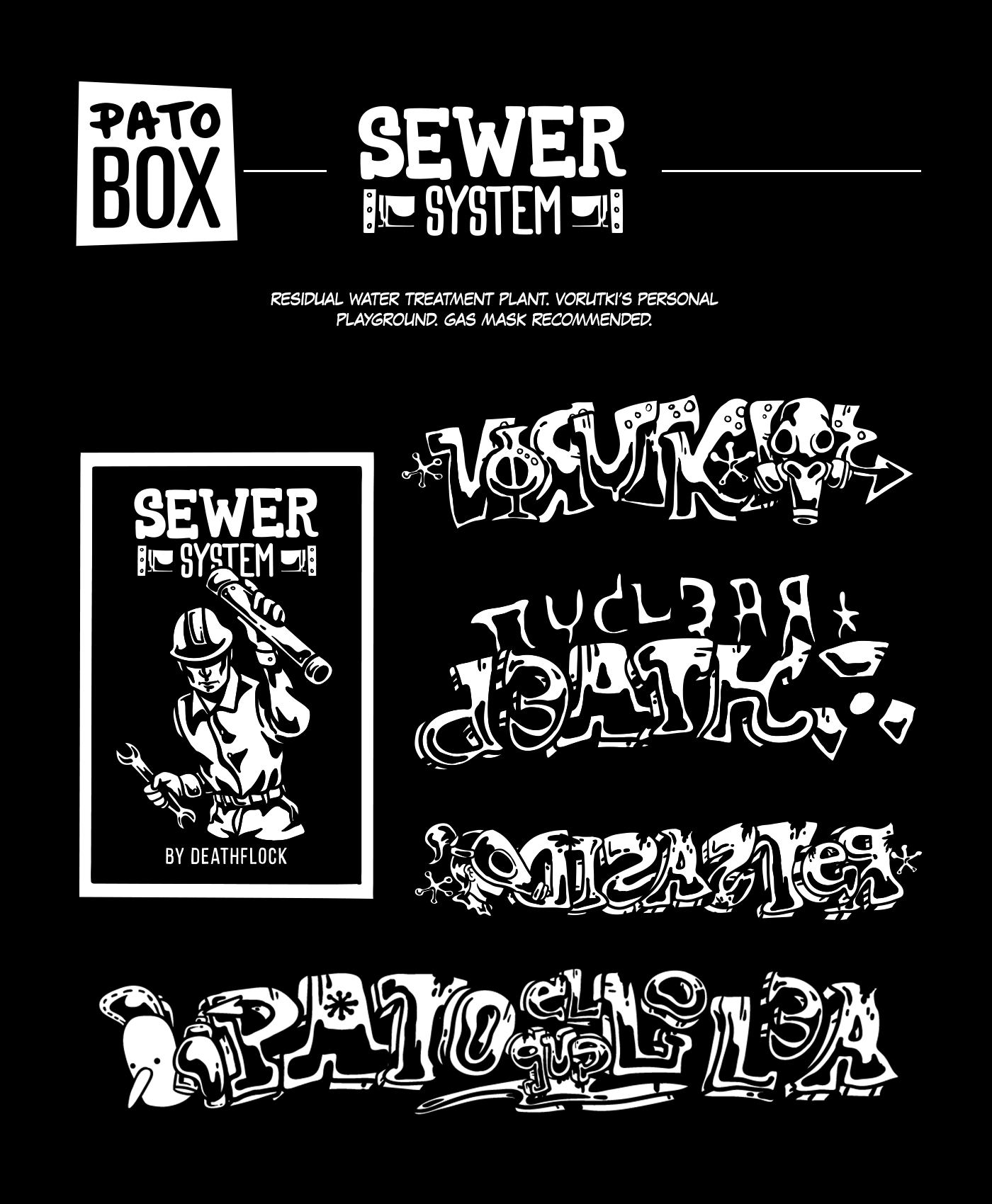 ---
Deathflock Labs
EN: For Deathflock labs, the general look was about making posters and graphic design like the space era and vintage science posters… for this I was inspired by the BioShock in-game posters, and soviet posters (in general, soviet posters was a big influence for the posters I designed in the game).
The funny asset is the "days without and accident" big poster… My idea was to place it in the breakable wall that "Junior" (the monster zombie duck) will crush… and replace the poster's scientifics with a new version of them without their arms and blood from Junior's attack.
ES: En el laboratorio de Deathflock, el ambiente general era hacer posters y diseño gráfico similar a posters científicos de la era espacial… para esto me sentí inspirado por los posters de BioShock y posters soviéticos (en general, los posters soviéticos fueron una gran influencia para todos los que diseñé en el juego).
El gráfico más chistoso es el del gran poster "días sin accidentes" … mi idea fue colocarlo en la pared rompible que "Junior" (el pato monstruo zombie) aplasta… y reemplazar ese poster con una versión nueva con los personajes del poster dañados y desmembrados por este accidente.

---
Office complex
EN: The office complex was a fun level for making posters. Here, I was inspired by 1984's big brother feel… like Deathflock is always watching their workers and they do their jobs because they are afraid of the system and the punishments.
ES: El complejo de oficinas fue un nivel divertido para hacer posters. Aquí, me inspiré en el Gran Hermano de 1984 para que se sintiera que Deathflock todo el tiempo estaba observando a sus empleados, quienes cumplen con sus obligaciones por miedo al sistema y sus castigos.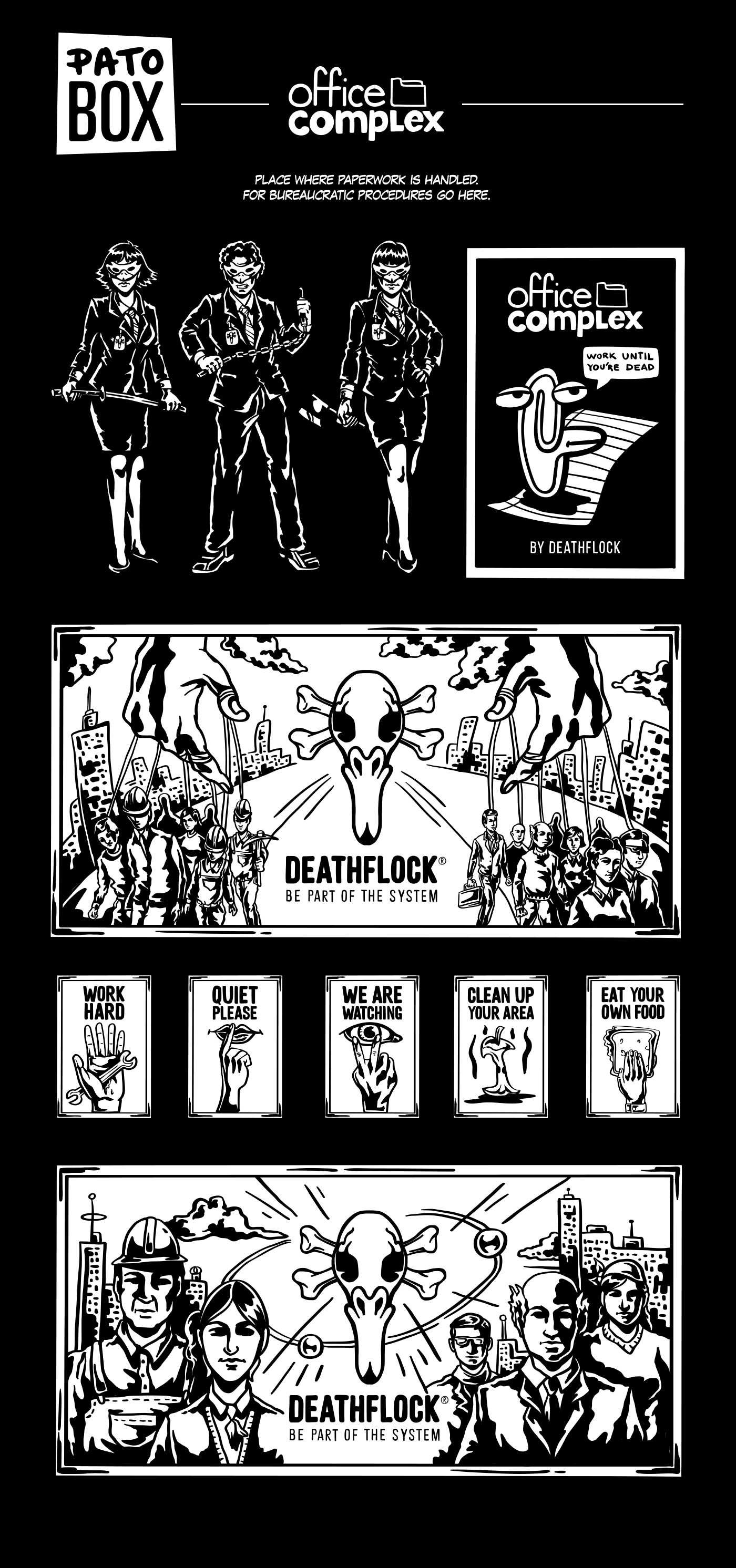 ---
Denhouse
EN: For the Denhouse, the final level for the boss of the game, it was all about parodies of famous painting… I chose my personal favorites and replace the main characters with patobox, the paintings I chose had to be about suffering to our hero. You can recognize Rembrandt, Goya and Munch art.
ES: Para el Denhouse, el nivel final del jefe del juego, todo fue acerca de parodias de pinturas famosas. Elegí mis favoritas y reemplacé sus protagonistas por la figura de patobox. Las que seleccioné tenían  que tratarse de sufrimiento… por eso pueden reconocer obra de Rembrandt, Goya y Munch.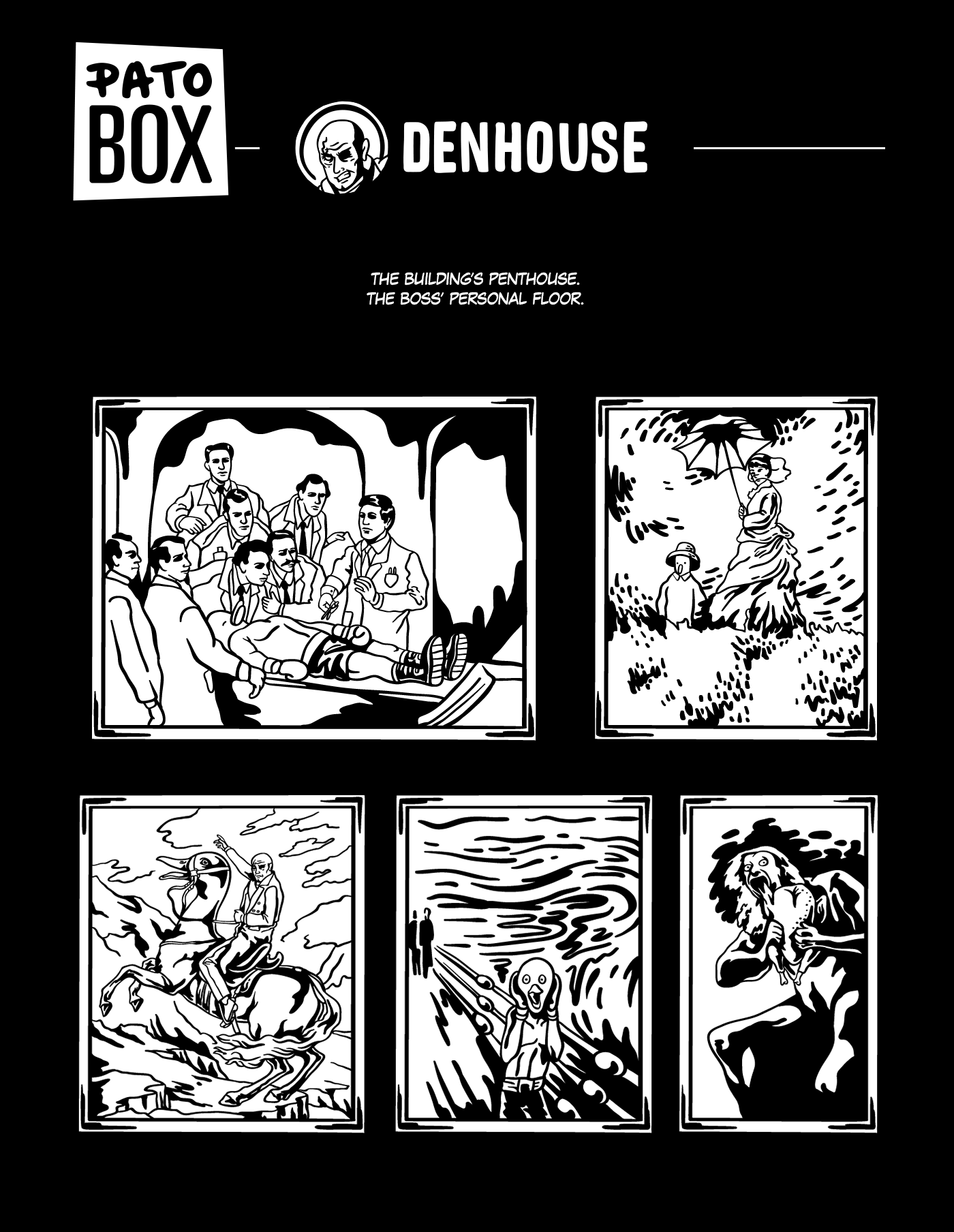 ---
Living Quarters
EN: The living quarters are the bedrooms for the bosses. These are my favorite assets of them. Again, the paintings are parodies from ukiyo-e for Ahirutato and fake movie posters for Ave Sagrada based on the El Santo's movies.
ES: Para los domitorios de los jefes, estos son mis gráficos favoritos. De nueva cuenta, las pinturas son parodias de ukiyo-e para el cuarto de Ahirutato y posters de películas falsas para el de Ave sagrada, basados en la cinematografía de El Santo.

---
Arcade mode
EN: Last but not least important is the lettering I did for the Arcade Mode and cinematics. At the beginning, the cinematics that introduce a new character only had the name written with the game's font. I suggested their names could be more as logotypes of their personalities. Later we used these letterings for the arcade mode and designed the win and lose warnings.
ES: Por último pero no menos importante, están los letterings que hice para el modo Arcade y las cinemáticas. Al principio, las cinemáticas que introducían a un nuevo personaje, solo tenían sus nombres escritos en la tipografía del juego. Sugerí que sus nombres podían ser más como logotipos de sus personalidades. Después usamos estos letterings para el modo arcade y lo complementé con mensajes para el ganar y el perder.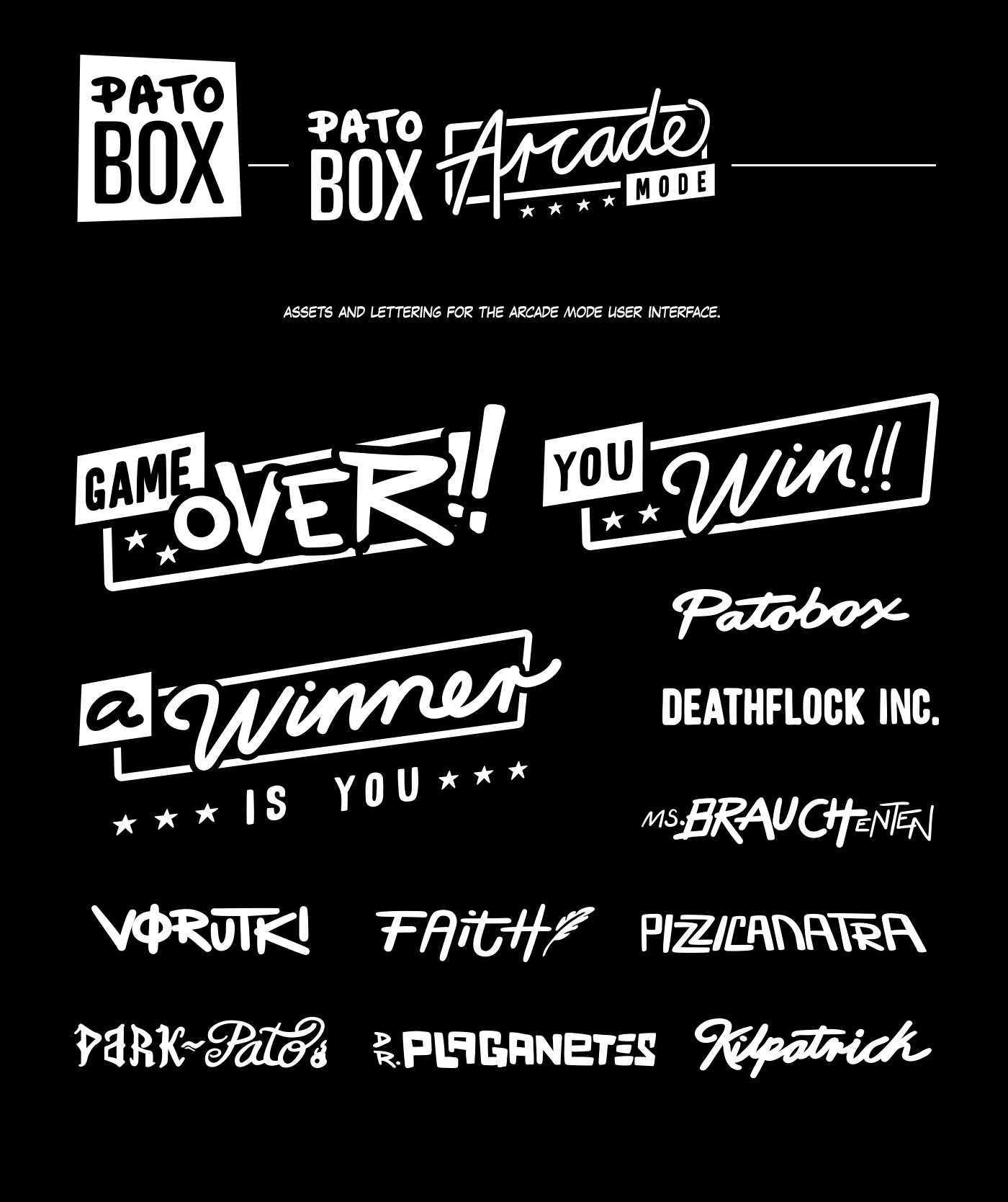 EN: These would be my favorite 2D assets I did for the game. I'm very happy to had the opportunity to make some graphic design for the game, I think is very important for an indie game to have a really cool art style and design and some indie studios don't put attention on this.
I also designed some of the menus and user interfaces of the game, such as the elevator and the arcade mode… and drew concept art for the exploration levels. Maybe we'll talk about it on future posts 😉
There's one thing more: Did you notice… you can't see most of the NPC's eyes because it's a metaphore that Deathflock leave these people soulless (This was César's idea). Also, some NPC's have eyes because those ones are some kickstarter backers and the bromio Staff… I give you an image of all the staff behind Pato Box, you can find them in the game (except the ones that didn't want to appear or didn't have the time to include them :/)
ES: Estos son mis gráficos favoritos que realicé para el juego. Estoy muy contento de haber tenido la oportunidad de realizar diseño gráfico para un videojuego, creo que es muy importante para un juego indie tener un arte y diseños increibles… y muchas veces los estudios indie no toman esto en cuenta ni para el diseño de sus logotipos ni para los gráficos dentro del juego.
También diseñé algunos de los menús e interfaces de usuario del juego, como el elevador y el modo arcade… y dibujé arte conceptual para los niveles de exploración. Quizá en una entrada futura hablemos de ello 😉
Hay una cosa más: ¿se dieron cuenta que la mayoría de los NPCs no tienen ojos? Esto fue una idea de César como una metáfora de que Deathflock deja a la gente sin alma. No obstante, algunos de los NPCs sí tienen ojos porque son backers de kickstarter o parte del staff de Bromio… Les dejo una imagen con todos los tipos detrás de Pato Box y que pueden encontrar dentro del juego (excepto los que se escondieron para no salir o ya no dio tiempo de incluir :/ )